Autism Treatment with MeRT = Renewed Hope for a Better Future
Magnetic Resonance Therapy is a non-invasive, drug-free treatment that uses sophisticated diagnostics to develop a highly tailored treatment plan for your child.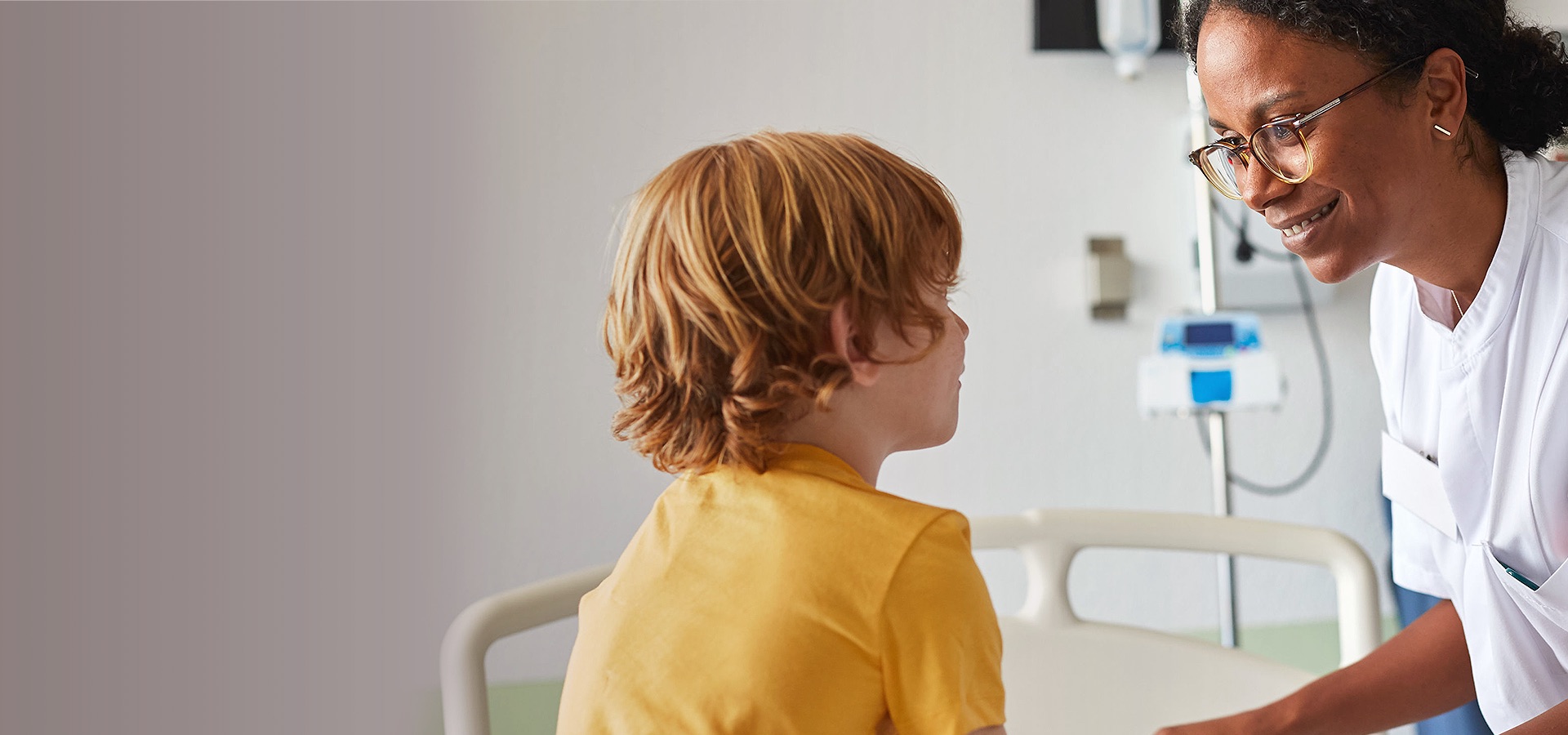 We understand that you want an improved quality of life for your child and are here to help!
MeRT, or Magnetic e- Resonance Therapy, is a relatively new treatment for ASD patients. We've seen some amazing results with this treatment.
Children with autism will show dysregulated brain wave patterns on their EEGs. Simply stated, MeRT is a gentle therapy that can synchronize brain waves.
It can also help your child to get more out of their other therapies.
MeRT enables the optimal function of the brain which will allow your child to be more independent and live the best life possible!
We treat children at our clinic who are 4 years and older. 
Benefits* from MeRT treatment for Autism: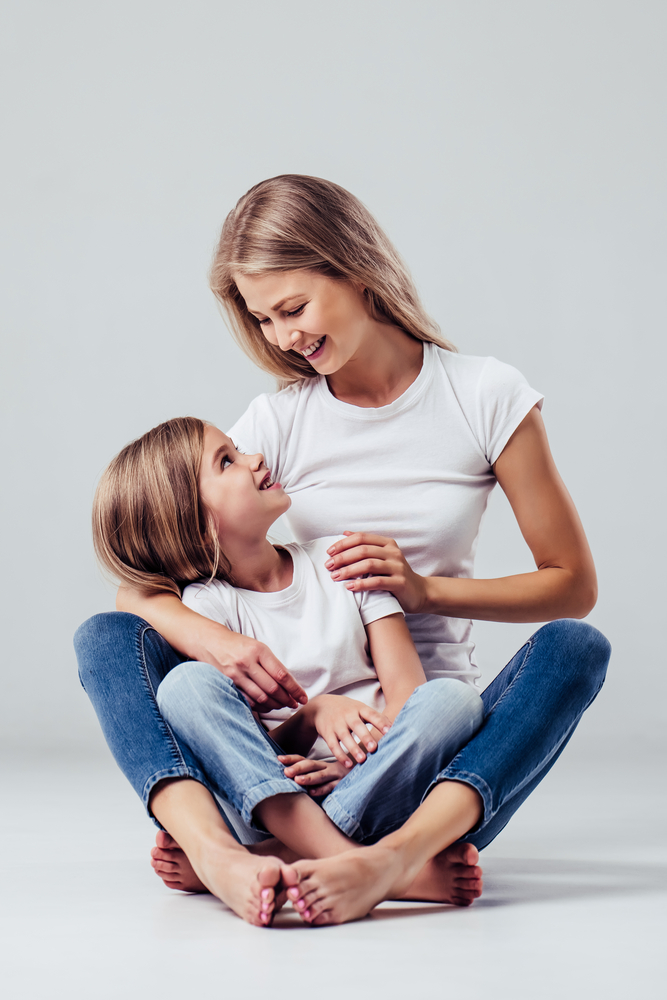 MeRT treatment can be life-changing.* Following are just some of the benefits that can occur:
Better sleep
Increased sleep duration
More relaxed, less anxiety
Increased attention span
More independence
Better concentration and focus
Improved interaction with others
Increased emotional stability
Better response to commands
Mood improvement
Increased motivation to learn
Improved ability to cope with stress
Reduction of stress symptoms
Increased motivation to learn
Improved self-confidence and self-esteem
More "presence" in the world going on around them
Increased ability to adapt to change
Improved language skills
* Results are based on active and strict observation of our regimens. Results may vary based on the individual user and are not guaranteed.  
Learn More About How MeRT Can Help Your Child! 
MeRT is a relatively new treatment, so you may have many questions as to whether it's right for your child. We understand, and we're here to make it as easy as possible for you to get the information you need.
We also know that this is not a light decision to make. Your first step is as simple as a phone consultation with our New Patient Coordinator. During this call, you can discuss symptoms and history, ask all the questions you want, and have her explain the treatment in full. She can also explain all fees and protocols.
Or fill in the form below and she will contact you.
The MeRT Approach: Individualized Treatment for Autism
There are often times when a parent can get a glimpse of the potential in their child — if only they could unlock that potential. That's why we're so enthusiastic about MeRT! It is a treatment that is showing some incredible success for children with autism — it truly helps unlock that hidden potential. MeRT combines three procedures:
 Transcranial Magnetic Stimulation (TMS, an FDA-cleared therapy)
Quantitative Electroencephalogram (qEEG)
Electrocardiogram (ECG/EKG).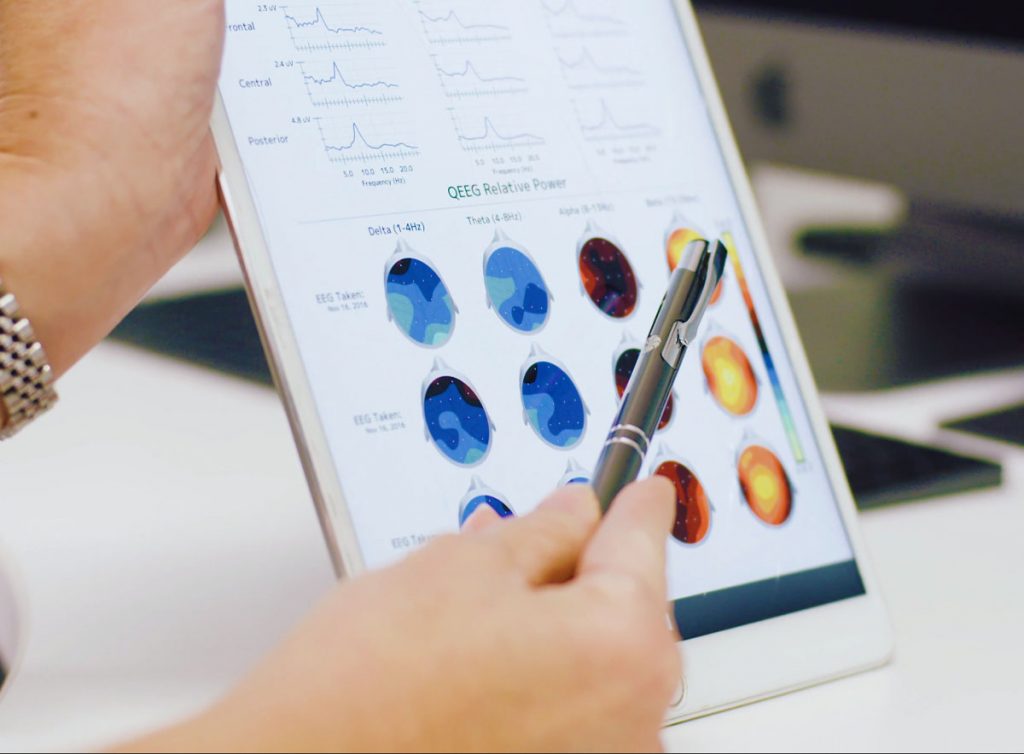 Here's how it works: In the brain of a child with autism, an EEG will show electrical signals that differ from those of a child with no signs of ASD. From this EEG, we can then see the specific areas to address.
Then, we can customize TMS treatment for each child based on the results of their EEG. We also tailor that treatment in frequency, location, and power used. We do this with gentle magnetic waves which balance and stimulate brain function.
Studies have shown that it can be instrumental in helping many children develop skills to function more normally. Additionally, MeRT is compatible with any other type of therapy, such as ABA, and can even accelerate results from those therapies.
MeRT is completely non-invasive, drug-free, and easily tolerated.
Autism Spectrum Disorder Is Different for Every Child
Autism spectrum disorder (ASD) affects everyone differently. Each child is unique and experiences different levels of severity. Even if a child is on a similar "level" to another, they can still have individual symptoms, ways of dealing with the outside world, and communication methods.
The CDC estimates that autism affects one in 54 children. Additionally, ASD is four times more common in boys than girls. And ASD occurs across all racial, ethnic, and socioeconomic groups.
Although autism can be diagnosed at any age, symptoms generally appear in the first two years of life. Most children will show signs in the first year, yet some may develop normally and then regress between 18 and 24 months old. This regression can cause them to lose skills they've already learned and stop acquiring new skills.
We treat children who are 4 years and older at our clinic. 
We had exhausted every available treatment hoping to help our daughter. Nothing worked—then we found Brain Treatment Center. MeRT changed everything for us." – parent of a child with autism

Common Autism Signs and Symptoms
Doesn't appear to understand or hear when being spoken to
Seems disconnected from the outside world
Has no verbal skills
Can't read body language or recognize changes in tone of voice
Doesn't make eye contact
Has a blank facial expression
Appears to lack emotions and compassion
Uses monotone or robotic speech patterns
Can't understand simple questions or instructions
Responds inappropriately in social settings
Is disruptive, loud, or hyper-reactive
Can be obsessive about routines
Has an abnormal fixation on objects
Moves stiffly
Rocks back and forth or performs other repetitive movements
Exhibits self-harming behaviors such as hitting, biting, or head-banging
Has a heightened sensitivity to light and sound
Can be highly intelligent but has the inability to make human connections or feel empathy
Children on the mild end of the autism spectrum have a better chance of becoming more engaged in relationships with others. They also have fewer behavioral disturbances. Asperger's Syndrome, for example, falls at the mild end of the spectrum.
Those on the moderate to severe end of the spectrum will have problems with communication and social skills. The teenage years can also bring increased issues with stimming and aggression from hormonal changes during this time. But there is hope! 
"We've seen some promising results in autism."
EEGs (electrical pictures of the brain) can tell us when there are abnormalities in neural networks. … And we run that data through a normative database, and we can see, for example, if somebody has an area in the left prefrontal cortex that's cycling at two Hertz — which means that they may be only processing information two times per second — whereas the rest of their brain may be cycling 11 times per second. …

[MeRT] was engineered to be a brain optimization technology where we're trying to increase the coherence, [so] different areas of the brain can communicate with each other and improve the metabolic efficiency of the brain.

With that in mind, we do see some improvements across a number of different dimensions. We've seen some improvements and some promising results in autism."

– Dr. Erik Won, President of Wave Neuroscience, from his appearance on the Broken Brain podcast    
Call Us Today. We are Here to Help.
Our New Patient Coordinator will take the time to answer your questions, listen to your concerns, and explain our procedures and how this treatment can help your child achieve more independence and better quality of life. 
"It's the best decision I've ever made in my life for my son."
Adriana said she saw it coming. Her 3-year-old son, Mikey, was diagnosed with Stage 2 Autism. Even so, it was hard to face. "You feel like the world's on your shoulders, like you're the only person out there," she said.

Adriana and her husband began searching for schools and programs to help Mikey. Then COVID hit, and everything shut down. But they couldn't stop searching—Mikey's future was at stake.

Then Adriana discovered the Brain Treatment Center and started Mikey on MeRT treatment. She noticed the changes almost immediately. "His progress has been amazing," she said. "I can't express how much better he's been doing. He's like a different child."

Now, Mikey can hear a noise and not be startled. He can go to the mall or the park with his mom and have a good time. He sleeps through the night—a big deal for his parents, who work during the day. "The brain scan says it all," said Adriana. "You can see amazing progress from his first, to his second, to his third EEG. I can't wait to see his most recent."

Due to her experience, Adriana has a message for all parents: "Don't be discouraged by anybody telling you that there's nothing you can do for your child. There's a lot more you can do. It's the best decision I've ever made in my life for my son."
Studies Show the Effectiveness of MeRT Treatment for Autism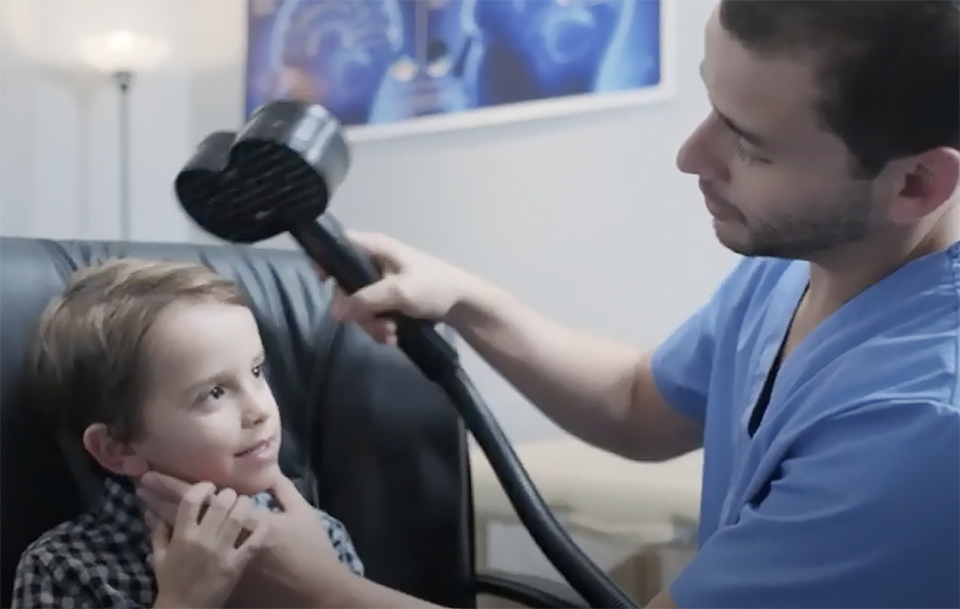 Targeted rTMS (repetitive transcranial magnetic stimulation) is a key element of our MeRT treatment for autism. Many studies show the effectiveness of rTMS for autism treatment. Here are some of the most recent:
MeRT Treatment for Autism: What to Expect
Once you decide to take the next step, we then set up two separate appointments. Each of these appointments will last 45 minutes to an hour. After this, we have an assessment period where the actual procedure and monitoring take place.
EEG Testing
On your child's first appointment, we perform the qEEG and ECG/EKG. These easy, painless tests are performed right in our office.
For the EEG, we place a cap on your child's head to measure the electrical activity in their brain. By doing this, we can map out any areas which are not performing as they should.

In the EKG, we attach an electrode to the chest to record the heart's electrical signals. Both of these tests are simple, gentle, and performed with the utmost care.
Once we complete the testing, our team will carefully analyze the test results. Then, based on this analysis, we develop a treatment plan customized to your child's specific condition and schedule their assessment period of treatment. 
We understand that you may be concerned that your child may have sensory issues. The qEEG involves putting a swim-like cap on your child's head to get a reading of the electrical activity in the brain. We are here to help and can provide you with some tips on how to prepare them ahead of time.
Additionally, our technicians are highly skilled and compassionate and work well with developmentally delayed children. 
Consultation
Your second appointment, after your qEEG/EKG, is a one-on-one consultation. You and your child can do this either in person or virtually from the comfort of your home.
We will discuss your test results and treatment protocols, answer any questions you may have, and let you know more about what to expect during your child's assessment period of treatment.
Assessment Period
The next step is the Assessment Period, where we will perform two weeks of treatment, followed by a new EEG to see how your child is responding to the treatment. We determine progress based on the new EEG results compared to the first one that was completed before starting treatment.
If there is a positive response to treatment during the assessment period, you will have likely noticed some clinical improvements starting to take place. At that point, we will schedule additional MeRT treatment in two-week intervals.
At the end of every two weeks, we will perform a qEEG/EKG to monitor your child's progress; you will have a consultation to confirm that changes are still showing on the testing.
Most conditions treated with MeRT provide noticeable and long-lasting results after six weeks of treatment; however, each patient is different, and results may vary.
It is important to note that, throughout the procedure, we take the utmost care to give your child a wonderful experience. We know, particularly when it comes to autism, that a calm, caring environment is vitally important. And we do everything we can to provide that environment so that your experience is both pleasant and productive.
Our Founder and Medical Director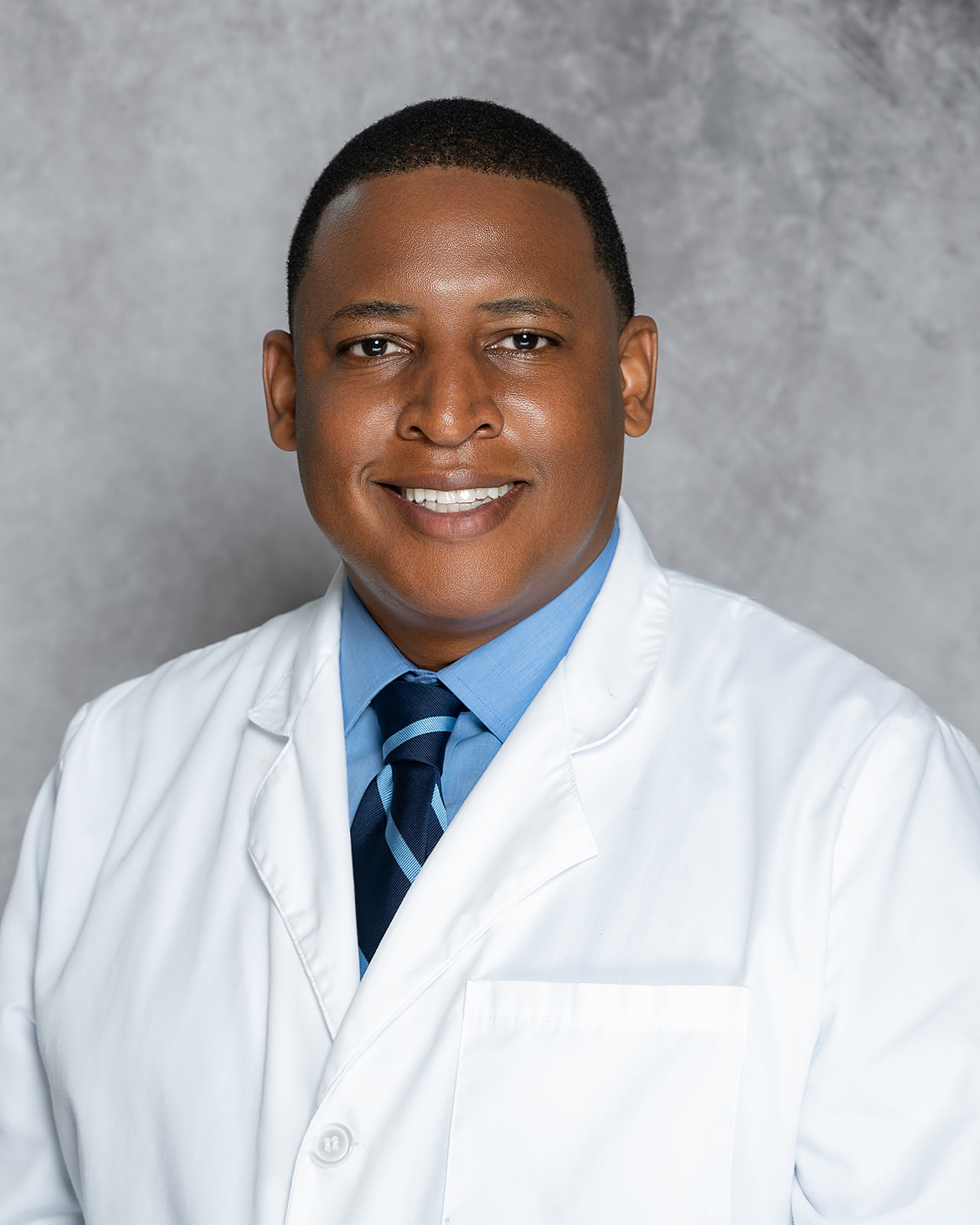 Gilbert Mbeo, MD is a triple board-certified physician who specializes in Neurology, NeuroIntensive Care, and Interventional Pain Management. Dr. Mbeo has over 13 years of experience providing evidence-based, high-quality care to patients with acute neurological needs, including acute stroke, neuromuscular respiratory failure, status epilepticus, and brain and spinal cord trauma. 
When Dr. Mbeo learned about MeRT treatment, he wanted to establish his own clinic so that he could offer this to all patients who have experienced brain traumas.
It was then that he learned that MeRT can also be used to improve symptoms for autism patients and those with mental health conditions such as depression, anxiety, and PTSD. 
Dr. Mbeo is a neurointensivist, meaning that not only does he have an in-depth understanding of neurology and neurological conditions, but his expertise is in the care of critically ill neurologic patients with acute brain, spine, and neuromuscular disorders. This specialty is also referred to as neurologic intensive care, critical care neurology, and neurocritical care.
After learning about the brain healing effects of neuromodulation, Dr. Mbeo established the Brain Treatment Center Orlando in order to use interventions like cognitive rehabilitation, Magnetic Resonance Therapy (MeRT), and transcranial magnetic stimulation as non-invasive treatment options for an array of neurological conditions to include autism.
While MeRT is not a cure for ASD, it can drastically improve the quality of life and independence of your child. 
MeRT Featured in Autism Parenting Magazine
This is a story told by Frank, whose child Frankie was diagnosed with Autism. After trying many therapies, they traveled to the Brain Treatment Center for MeRT treatments.
In the third week, something happened. The family was driving around sightseeing when they realized that they were getting lost in the California desert. Mary and Frank began to argue, and right in the midst of it, the moment they had waited six years for finally came. "I remember he said a seven-word sentence basically to the effect of 'I want you two to stop fighting.' And it shocked me so much that I almost stopped breathing," Frank recounts. "I looked at my wife and said 'Do you realize what just happened?' He just said a seven-word sentence.'

I had tears in my eyes, and I was happy at the same time."

 

From there, Frankie's progress snowballed. They returned home after only a month, but the difference between the child who arrived in California and the one who left was striking. They had taken a video of Frankie on the plane when they started the journey, "and he's just making baby babble," Frank says. "We have another video of him on the plane coming back. And he looks out the window and says, 'Goodbye California, see you soon.' This was a nonverbal kid, 30 days later. And his feet are flat on the ground."
Doctors said Frankie would continue to improve even without regular MeRT albeit a bit slower. Today, he is 11 years old, verbal, and attends a public school. He tells Frank stories about times when he wanted to speak but couldn't. "He says 'You know, I'm so glad we went to the Brain Treatment Center because now I can talk,'" says Frank.
Watch the Video to listen to a Father Explain How MeRT Treatment in Orlando Helped Max…
Contact Our New Patient Coordinator for More Information
Our New Patient Coordinator is available to answer any questions that you may have about how MeRT can help you or your child. During your free, no-obligation consultation, she'll take the time to listen to your concerns, answer your questions, explain costs, and put your mind at ease. She can also assist you in getting scheduled should you decide to move forward with treatment.
We understand what your child — and you — may be going through. To that end, our goal is to help guide you through the process with quality care in a warm and compassionate environment. In fact, many MeRT clinicians and technicians have gone through treatment themselves. As a result, they know first-hand what this treatment can do. That's why they're passionate about helping others to heal.
We are Here to Help.
Our New Patient Coordinator will take the time to answer your questions, listen to your concerns, and explain our procedures.
Or fill in the form below and she will contact you.
Contact Us
For more information or to speak with our New Patient Coordinator, please fill in the information below.